EMPLOYMENT OPPORTUNITIES IN
MASSACHUSETTS, CONNECTICUT AND RHODE ISLAND
Welcome to the careers page for Mizpah Security Services, Inc, (MSS). We're always looking for individuals who have what it takes to be part of the Mizpah Security Services team. We are currently accepting employment applications for security guard positions.
We can provide training to the right candidate, so if you are professional, personable, vigilant and highly responsible, we'd love to talk to you about our open availabilities. For consideration please fill out the application form below and we'll be in touch if we think you're a good fit.
Email:
sms@mizpahsecurityservices.com
jefernandez@mizpahsecurityservices.com
Mizpah Security Services, Inc.
Phone: 413-883-4893    Toll Free: 413-319-0451             Fax: 1+ (877) 525-0420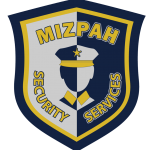 349 High Street, Holyoke,
Massachusetts 01040
Phone: 1+ (800) 631-5493
info@mizpahsecurityservices.com