Mizpah Security Services (MSS) was founded in 2012 by Security Expert J.E. Fernandez, with the objective of providing cutting-edge security services to professionals, corporations and other businesses who need not just any security, but innovative solutions. Mizpah provide innovative and advanced security solutions no matter the venue. Our services are fully tailored to your specific needs to make sure you're getting the level of protection you need.
Whether you are in need of crowd control, premises surveillance or personal security, MSS is there for you. At Mizpah every job is unique, therefore we carefully consider all of the potential risks and threats and use that information to devise a security plan that works specifically for you.
Mizpah Security Services, Inc, (MSS). is a full-service security guard company and agency, fully licensed and insured, with over eight years of experience. Mizpah Security Services (MSS), guarantees, in writing, complete satisfaction and unbeatable rates.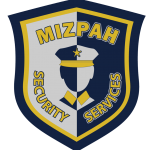 349 High Street, Holyoke,
Massachusetts 01040
Phone: 1+ (800) 631-5493
info@mizpahsecurityservices.com